Bringing in a new year leaves room for improvements and upgrades. It's time to set new goals and conquer new challenges. Vision boards are a collection of pictures are phrases aimed toward the future you want to work towards. Visualize accomplishments and adventures you would like to take into this next chapter of life.
Here is a step-by-step guide on how to create an awesome vision board.
Supplies: Poster board, old magazines, glue, scissors, markers (optional)
Step 1: Identify your goals. What do you want out of this new chapter? Think about both the short term and long term. More importantly, believe that you can manifest whatever you desire.
Step 2: Gather magazines and cut out pieces that represent the future and the journey. Be sure to be as specific as possible. Instead of just cutting out any old house, cut the one you would actually purchase today if you could. Instead of any old outfit, cut out the perfect outfit for you. And if you can not find it, then make it yourself! This is the moment to dream as wildly as possible, and feel your heart be drawn to these images daily.
Step 3: Place pieces on the board that is visually stimulating. It could be a pathway, step by step progress or a general synopsis. But remember, the details matter the most. You are writing the upcoming scene in your life's story, so make sure you are as detailed as possible. Close your eyes and imagine your idea of a perfect life/world/situation, then recreate that with the cut up pieces. This is where the vision board starts taking shape.
Step 4: Glue pieces to the poster board. Dazzle it up with anything that represents the journey. Use old tickets, photos, and accessories to make the journey feel that much more real. Then, as time goes, you can start adding the items that were once a dream onto the board. Thus, your vision board become a living work of art representing your journey and struggle through this magnificent experience we call LIFE.
Step 5: Post it where you can see it as a daily reminder of what to work towards. Set aside time each day to look through the fine details of your Vision board, and let it inspire you to conquer the world and whatever obstacle you might have in front of you. Remember, vision without action is merely a dream.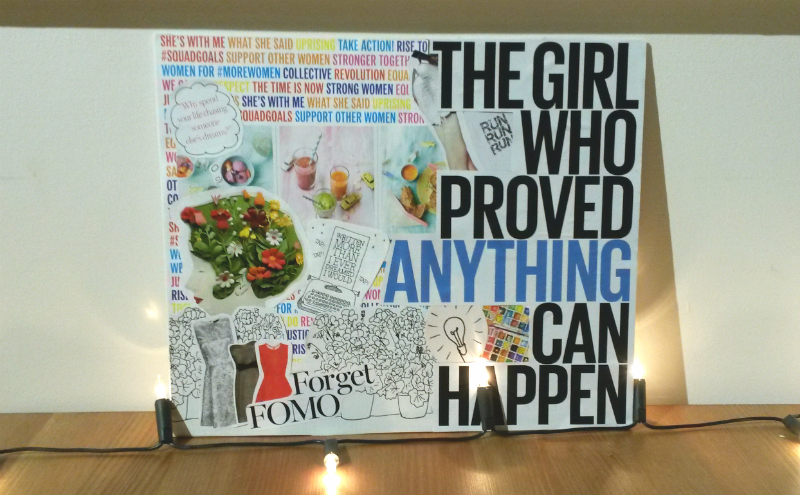 Written By Lexi Fantroy